Artists Have the Answers?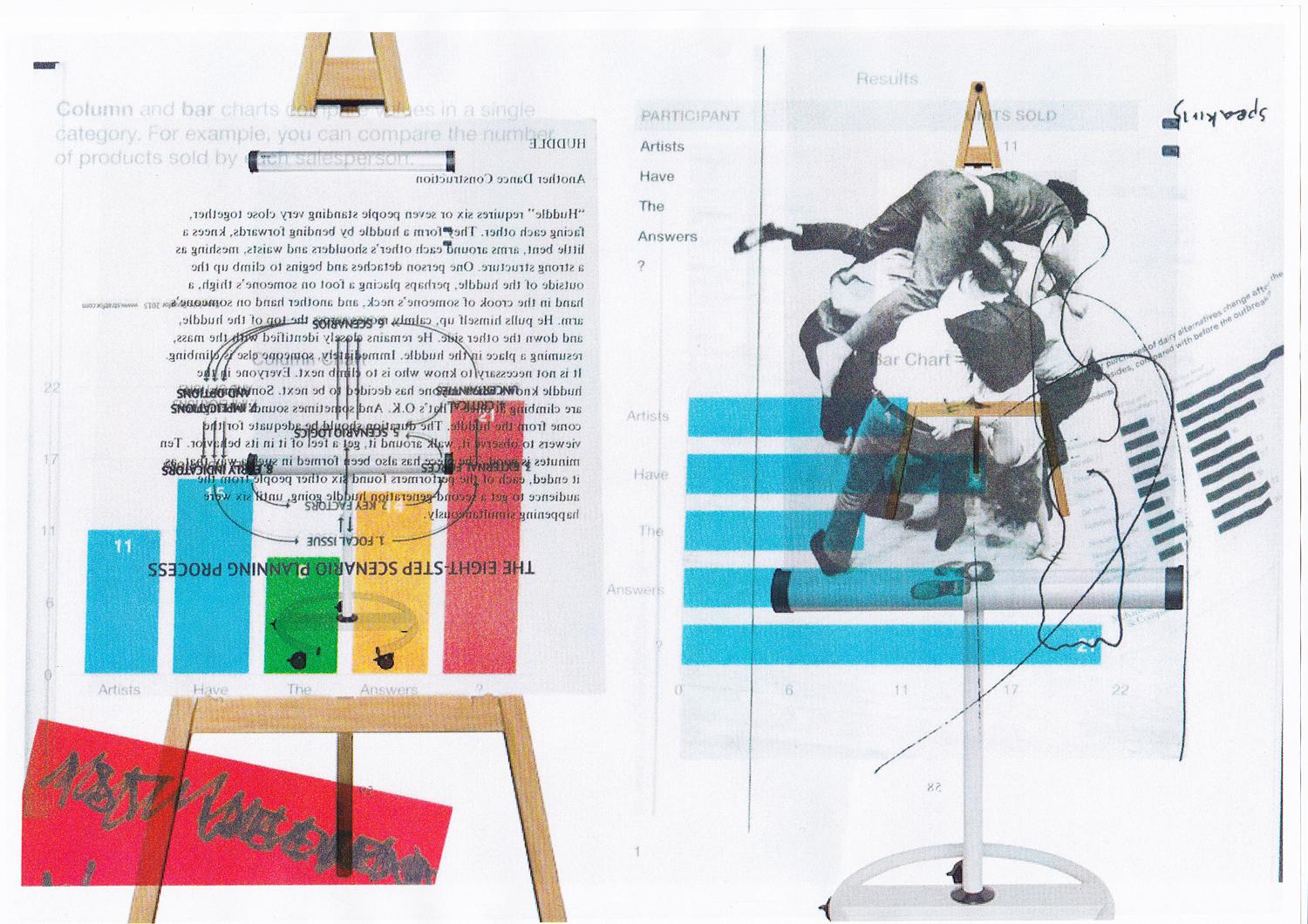 Artist Project Group (Lukas Heistinger, Bernhard Garnicnig and Andrea Steves) employs performative and collaborative forms of organization-building to interrogate phenomena of capitalism through curatorial and artistic methods. This results in works that do not resolve ambiguities, but make them aesthetically tangible in their complexity.

Artists Have The Answers?
What happens when we bring the practices of artists and consultants into the same space? As the influence of consultancy firms and their methods expand within spheres of the public and policy making, we ask what artists can critically adapt and appropriate from the interfaces, frameworks, tools, and practices of the consulting field.

Our line of inquiry follows the developing story of consultancy capitalism, is inspired by the questions left unanswered by the Services project, and is concerned with artists developing resilient practices amongst the changing rhetoric of the role of art in society and the evaluation of its "impact."

The workshops will create opportunities for discussion and dialogical analysis of practices, techniques, frameworks, motivations, performativity, and aesthetics, of critical art and consulting practices.


Some of the questions we will collectively consider are:


The consultancy industry occupies the interfaces between corporate & governmental agents and their impact on the life and experience of society. What if we would open this interface to the intervention of artists by encouraging the strategic transfer of methods and practices?

Artists are trained with critical tools for thinking and acting as context for their practices, yet the work developed through this is often confined by the institutions and economies of art, or their practices are reframed as artistic research by the academic industry. What if we could build a platform for resilient aesthetic and knowledge practices that enables more direct forms of impact to the wider fields of society, economy and government?

Consultancies are a kind of cybernetic oracle, offering systems of control as services to corporations, governments and individuals. Yet, while the effects of the ongoing implementation of digital systems for control are reflected by critical theory and media art, the widespread impact of the field of consultancy services remains untouched by the critique and intervention by artists. What would artists do with access to the tools and markets of consultancies, and what would consultancies do with the input by artists?

Under the shifting conditions of globalisation and acceleration, daily life ever more takes place on digital corporate messaging and data collection platforms. These apps allow for creative, direct interactions. What would change in artists' economies if we built a cooperative platform that produces a digital interface for direct interaction and monetisable performative works, as a dedicated frame for artists dual articulation of performative forms of knowledge practices?

What does consulting do in the world, and how does it do it?

Are you already a consultant? (when/where)

What can consultants learn from artists, and how can they think about integrating artists' practices, skill sets, perspectives into their consultancy projects?

What can artists learn from consultants, and how can they adapt or appropriate tools, techniques and frameworks from consultant practices in their performative and interaction-based work?

In the rhetoric of art contributing to society, and the ever growing bureaucratic lust for evaluating the impact of art and its public funding, what can we critically adopt from other client-relation and performative-knowledge practices?

What happens when we intersect the interfaces and adapt the methodologies of consultants to address the intransparency of the consultancy industries influence on public policy and to make work that seeks to influence the political and public spheres?

Is it appropriate or useful to describe some relations between artists and institutions "consultative" and resultant activities or projects as "consultancy"?


Support
Pro Helvetia, Schweizer Kulturstiftung
Bundesministerium für Kunst, Kultur, öffentlichen Dienst und Sport; Sektion IV - Kunst und Kultur, Impact Academy,